Wall Rentals & Other Rates
Our climbing wall rates vary between $200-$300 per hour for different events, organizations and locations. Hourly minimum for all events however they are dependent on the dates and time of year.  Please use the reserve now button to get a quote.
Ziplines – PRICING for 150-250ft Mobile Zip Lines:
$2495-$4495 / 4 hour Event Rental ($300-$800 each additional hour)
Pricing depends on event location, number of attendees, set-up times/break down times, delivery logistics including hotels and overnight parking.
Zorbs as stand alone rentals or add-on's are best discussed over the phone as there are many, many different variables to consider.
These prices are for reference only, Please contact us for a quote.
Pick a Wall
We have two types of walls available, the 3 Climber, and the 4 Climber:
4 Climber Wall
Accomodates 4 Climbers Simultaneously, slightly more difficult to climb
Approximately 60 Climbers per hour
Equipped with Auto-Belay System
3 Climber Wall
Accomodates 3 Climbers Simultaneously
Approximately 60 Climbers per hour
Equipped with Auto-Belay System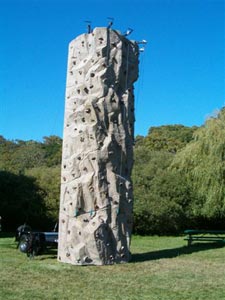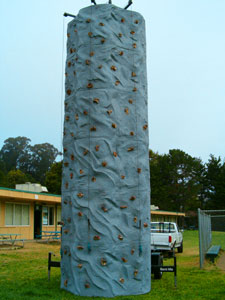 Wall Dimensions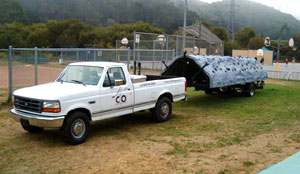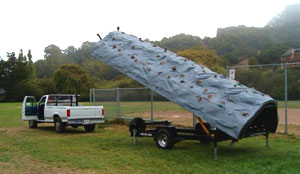 Our portable climbing walls require a level set up area that is between 16-24 feet long x 10 feet wide x up to 29 feet high. The walls must be towed into place with a standard size pick-up truck. Set-up takes only a matter of minutes.
Unsure of how our wall will fit into your event area? Climb On! will gladly do a site inspection for an additional fee. Please ensure that you have adequate space before reserving a wall.
Age
The climbing walls are suitable for all ages and abilities. We have had children as young as 3 years old and adults as old as 75 make it to the top! For birthday parties, our experience has shown that children 6 years of age and older have the most fun climbing. Our walls can be set-up with routes that suit beginners or with routes that will challenge the most athletic and experienced climbers.
Zorbing is best for ages 6 & up and Slacklining is best for 8 & up.  Excellent for adults too!
Insurance
Climb On, Inc is fully insured and can provide all clients with a certificate of insurance from our provider.
Availability
Due to extreme demand during our high season (May-Oct), we recommend that you reserve at least two months before your planned event day(s). If possible, include an alternative event date.  That's not to say that we don't have anything available if you are two weeks away, so call us anyway!